Two days' access for the price of one available by registering with Santander Cycles
Santander Cycles builds on two record-breaking months in 2019 and a best ever year in 2018
Throughout March, Transport for London (TfL) is offering two days' access for the price of one when people register with Santander Cycles either through the app or online for the first time.
Users who sign up with Santander Cycles and buy a 24 hour access period for just £2 will receive an email afterwards giving them another day's access free of charge, on a day in March of their choice. This will enable them to hire from London's 775 docking stations for a second day of unlimited 30 minute journeys.
The free Santander Cycles app is available via the iTunes and Android app stores, by searching for Santander Cycles. The app includes docking station information, live bike and space availability and sends a release code straight to your phone, letting users skip past the terminal and get on their bike quicker.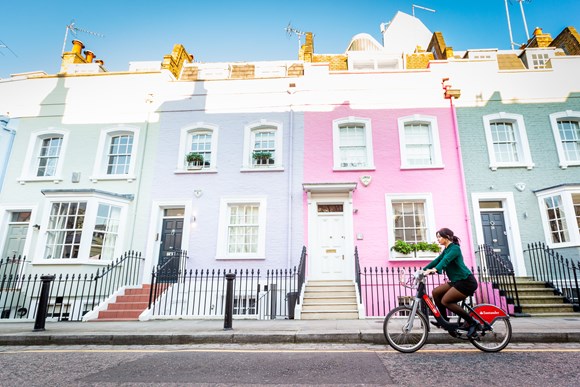 Santander Cycles covers 100 square kilometres of London, making it the largest cycle hire scheme in Europe. The scheme continues to grow in popularity, achieving a best ever February with almost 700,000 hires. This follows a record January and best ever year in 2018, with more than 10.5m journeys made.
Will Norman, London's Walking and Cycling Commissioner, said: "Santander Cycles are such a fun and easy way to get around our city and I hope our spring two-for-one offer will encourage even more people to give cycling a go. I'd encourage people to try out some of our new routes, such as those in Southwark, Camden and Newham. We are continuing to spend record amounts on cycling infrastructure to make our streets safer and more appealing for all Londoners to cycle on."
David Eddington, Head of Cycle Hire at Transport for London, said: "We are committed to doubling cycling in London by 2024 and we know that Santander Cycles plays a vital role in achieving this, as more than half of our users started cycling because of the scheme. This new offer for spring will help to encourage even more Londoners and visitors to take to two wheels, whether they're exploring London or commuting to work."
Keith Moor, Chief Marketing Officer at Santander UK, said: "Following such a great start to the year with two record-breaking months it's fantastic we're keeping the momentum going as we head into spring with this great offer. It's just one of a variety of upcoming initiatives to further demonstrate our commitment to supporting local communities and helping people and businesses prosper. We hope this new offer will encourage even more people to explore this fantastic city!"
Users can either hire the cycles at docking stations across London or using the free Santander Cycles app, although their free ride will need to be redeemed through the app. More than one million hires have been made using the Santander Cycles app since it was launched.
A 24 hour access period costs £2, giving customers unlimited 30 minute journeys within that time. All Santander Cycles hire and access charges are frozen until 2020, as part of the Mayor's Fares Freeze.
Since London's cycle hire scheme launched in July 2010, more than 77 million journeys have been made, helping people to start cycling, explore London and commute to work.
This offer is part of the Mayor and TfL's commitment to encourage more people to make their journeys by walking, cycling or public transport.
Reducing reliance on the car and increasing sustainable travel will help reduce congestion, improve air quality and make London's streets safer, healthier and more inviting places.
New Santander Cycles users can either register using the app or online at santandercycles.tfl.gov.uk/Registration. Users registering online will need to purchase an access key for £3 as part of the process