IT IS not often you meet a university dropout who returned to the company he started at as a graduate civil engineer – and is now the group chief executive of one of Britain's best-known and most successful construction and infrastructure companies.
Leo Quinn, who heads Balfour Beatty, is a passionate advocate of apprenticeships, though he didn't start as one. He actually began his working life on the shop floor after finally buckling down academically and gaining degrees at Portsmouth University and Imperial College in London.
He believes apprenticeships offer people from all walks of life a great opportunity to learn and earn – and can get you to the top.
The construction business isn't exactly known for its diversity – there are few women and/or ethnic minority members in positions of influence and power.
But Quinn is keen to address all this. Like many business leaders, he believes that without doing so Britain's economy will suffer and the country will be poorer for it, in all ways.
He founded The 5% Club 10 years ago to not just get more young people from all communities into work and employment, but also to address the UK skills shortage. This is a problem still prevalent in the country, most notably in the technology and digital sector, and those role requiring 'green skills'. (See box, below).
The 5% Club encourages businesses of all sizes to employ five per cent of its workforce as ap[1]prentices, graduates or sponsored students and provide a pipeline of talent that can flourish and rise to the top. Several of the 900 businesses that are now part of the group are led by people who started their careers as apprentices.
Eastern Eye met Quinn in the Balfour Beatty offices in King's Cross, London. Tall, relaxed and incredibly humble for a top-level executive, he is animated about the issue of young people.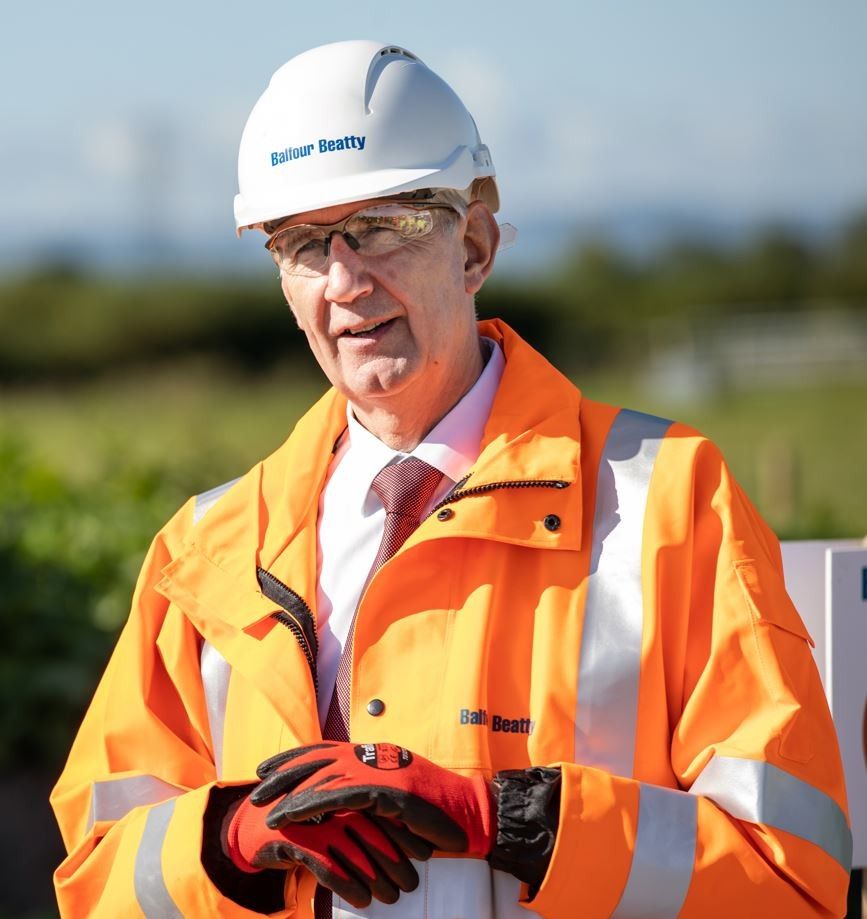 He said The 5% Club's origins lay more in what was happening in Europe than in the UK, though every country finds youth unemployment challenging.
"It wasn't actually started around the fact that we must do a better job for apprentices and young people," he said.
"In Greece, Spain and France, youth unemployment was 48 per cent – and is even higher in some ethnic communities (there). In the UK it was around 22 per cent."
Quinn emphasised that youth unemployment was bad for society as a whole. If young people did not have a stake of their own in society, it was unsettling for everyone – the social unrest in some countries in Europe back in 2013 certainly suggested this.
"One thing that contributes to social stability is to give people work," he said.
In Britain, the talk about social cohesion has somewhat dissipated, perhaps being overtaken by the issues of inflation and the cost of living crisis which affects almost everyone.
Quinn is also appreciative of the situation in his own sector – its historical, general image is one of big-bellied white blokes who leer and wolf-whistle at passing young women, and seem likely to dismiss equality, diversity and inclusion (ED&I) initiatives as unnecessary and just "woke".
And yet there isn't a large business in the land that isn't trying to address these issues, and that is because at a crude business level, all enterprises need good people. And, increasingly, those young people themselves are very conscious about the work environment they come into and want to see a workforce that is more representative of society as a whole.
Recognising that what is acceptable for one person may not be acceptable to another, Balfour Beatty has most recently rolled out what it calls 'Right to Respect'.
Through a combination of awareness sessions, on-site talks and digital communications, it aims to clarify which behaviours are acceptable while empowering people to hold each other to account. Approaches such as this help to remove the antiquated stereotypes that unfortunately still plague the industry today.
Like many firms, Balfour Beatty is on a journey. The company has set itself ambitious targets that will formally report to the board and its executive committee and be published in its annual report.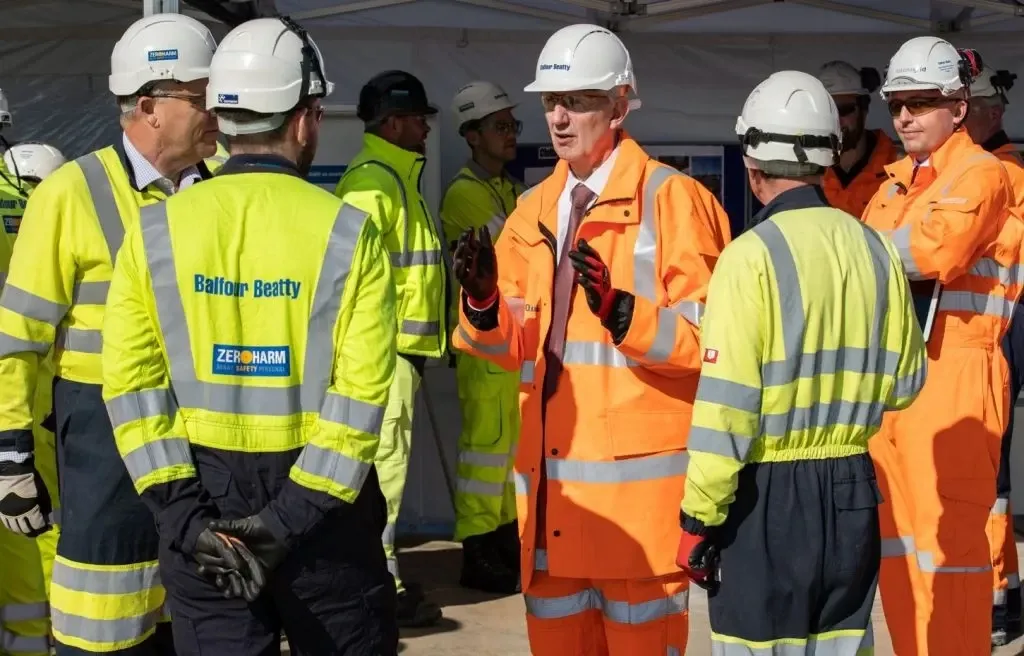 There should be a 50 per cent increase in female colleagues by the end of 2030. The last figures, compiled in 2021, showed there were 20.1 per cent.
Over the same time period, there should be a 60 per cent increase in minority ethnic staff. Currently, it is 10.6 per cent.
There is a specific target relating to black colleagues – currently at 2.8 per cent, it is also set to rise by 60 per cent by the end of 2030.
At the board and senior leadership team levels, Balfour Beatty should have 40 per cent female representation and at least one minority ethnic director by the end of 2024.
Quinn told Eastern Eye statistics were one thing, but capability was key.
"You can have formulas, spreadsheets and all the rest of it, but the important and crucial quality is capability," he said.
"We are a construction company – it can be a matter of life and death, so it is important that at the executive level and below, we have generalist, rather than specialist, leaders. "It has to start with capability. So you can bring people in, but you can't compromise on capability."
He told Eastern Eye this was his starting point and the targets were there in order to guide senior leaders. The company is already making efforts to build its talent pipeline. Currently 39 per cent of its graduates are from a minority ethnic background and 32 per cent are female.
Quinn said other companies were enticing under-represented groups as well, and there was a lot of competition. "The rate of progress is slower than we'd like, because talent is being picked from an ever-diminishing pool and competition is fierce.
"So, we're giving employees recognition, with shares and investment over three years.
"All of these initiatives combined have led to our improving retention statistics in this population – from our 2021 intake, 91 per cent of graduates and 84 per cent of apprentices are still with us."
He explained that it was about setting the right tone – he couldn't control everything, especially at the beginning of the recruitment process. He advocated the use of reverse mentors – when someone young and relatively inexperienced in the business spends time with someone who is far more senior – which means they can view the world from a different perspective.
Quinn learnt a great deal from a young black female employee – by whom he was reverse mentored – who taught him about unconscious bias. She showed him, through a video, that everyone starts with different privileges and disadvantages, whether they know it or not.
"It shows 100 kids of all ethnicities at the start of a 100m race. It then asks them questions like, 'if you've got two parents and both are at home, step forward'; and another question about background; and then another and so on. A small group keeps moving forward but about half have not moved at all from the start, and about half of them were black."
The story is simple: people are not all starting at the same point. Some have to work that much harder to get to the finish line – it's hard to win a race after starting 25 metres behind everyone else.
At the end of the day, this is what ED&I is all about – making sure everyone has a level-playing field. Their own abilities, decisions, actions and choices can carry them to where they want to go, as individuals.
"My response was 'look, I agree. But it doesn't matter where you start – it's about what you are doing going forward.'"
And it applies to him personally, too, in some respects.
Quinn was reading electrical engineering at the University of Surrey, but failed his first-year exams. He admitted to having "so much fun" as social secretary, booking bands and organising discos and the like – and not being terribly bright either ("I just worked harder," he disarmingly said) – that he couldn't face doing the same course and repeating the year.
Instead, he applied to read civil engineering at what was then Portsmouth Polytechnic (now university). He got his degree and then went on to further studies at Imperial College, maintaining that he put in the extra hours to get his qualifications.
It is clear that Quinn believes in the mantra 'it's about perspiration, not aspiration'.
His slightly bumpy ride into the world of work has made him appreciate that businesses can recruit young people whose paths are not necessarily linear.
Quinn's business philosophy and what he looks for in young managers looking to move on up is revealing. For a top-level executive, he talked candidly about failure – and perhaps it explains his own humility – and personal success. Who would have given the first-year university failure much of a hope of becoming one of Britain's most-admired business figures?
As a corporate leader, he has added more than £1 billion in value not only to Balfour Beatty, but also during his tenure at De La Rue and QinetiQ, and has earned the respect of the City and the business community at large.
An exam failure at Surrey University might have thrown many off course. But his pragmatism and acceptance that he wasn't super bright meant Quinn was not fazed when it came to considering a polytechnic course – one that is, by its very nature, more hands-on and practical, matching his capabilities – over a traditional, lecture-based university course.
In those days, there was a clear dividing line and some blue-chip employers used it as well – 'polys' (in common parlance) were generally not for high-flyers or the academically minded. Yet, they did educate gems and rough diamonds. Some recruiters understood this and like Quinn himself (later) accepted that the linear route need not always be a marker for leadership and ability.
Initially, he was at Balfour Beatty before moving to Texas Instruments and then Honeywell, where he worked mostly in the US and Europe for 16 years, before going on to run the bank note printer De La Rue and technology firm QinetiQ. He re-joined Balfour Beatty in 2015.
Quinn recalled John Brown Construction inviting him to participate in an "interview trainer" session. Following that, all the panellists wanted him to come and work with the company.
He thought his slightly chequered educational history – not getting further at Surrey and then switching to Portsmouth – would be problematic, and asked why they were keen for him to join John Brown.
"They told me: 'We interviewed lots of people who've done nothing but succeed, succeed, succeed. You're the first person we've interviewed who has overcome adversity'. They thought that strength of character was impressive.
"The most important lesson in business is that you learn more through productive failures than you do through success. The thing to appreciate is that the failure is in someone else's eyes, someone who has the power to make that decision over you. It's not necessarily failure within yourself, it's just through their eyes," he said.
And Quinn also threw in something entrepreneurs say a lot: "I'd rather fail doing something than doing nothing."
When he returned to Balfour Beatty, it was a loss-making enterprise, but he quickly identified the problems and then started working through them.
"It was about cash flow (the company was in the red by £1 billion at September 2014). We made some clear decisions around how we wanted to manage that, and we decided we wanted to run a leaner organisation (we sold off Parsons Brinckerhoff). Then we looked at recruiting, training and retaining the best people, and how we rebuild confidence with our customers."
It was by no means easy – Quinn let go of 80 per cent of the senior leadership he had inherited within three years. But he said it wasn't as difficult as it looked.
"Some people will pull their weight and they do an awful lot, and some people don't." Today, the company has its highest ever employee engagement rate.
That experience also finessed his style of management, and he said he always looks for two qualities in potential managers.
"Can the individual move two levels above where they are today? Because we can all do our boss' job better than our boss.
"And then, at a personal level, would you be personally prepared to work for them?"
He added that communication and treating people as adults also helps – it is something he said he learnt as a graduate. "You must have adult-to-adult conversations. For me, it was bringing that level of communication along with the technical side. Ultimately, the buck stops with me."
Quinn's parents were Irish Catholic and he grew up in Ladbroke Grove in west London. His father was a painter and decorator, and was successful enough at one point to employ some 60 people, but seeing that the business was over-extending, ended up with about 10. Quinn helped his parents in the business during his time off and never thought very much about it.
He actually got into the Oratory School, a non-fee-paying Catholic school, and scraped the grades to get into Surrey. He hinted his athletic prowess may have helped.
"I was athletically quite accomplished. I won the Victor Ludorum – it is a badge, Champions of Champions – you had come first in high jump, hurdles, javelin and the relay.
"It's interesting that something you win when you're 13 or 14 sticks with you even when you are 66."
As Quinn himself said, it is not about where you came from, but where you're going.
The 5% Club 'teaches employable skills'
LEO QUINN is passionate about young people entering the workforce and "earning and learning".
It was the reason why he set up The 5% Club. In its own words, it "was created so that employers big and small, in every industry, would increase their 'earn and learn' training opportunities, raising people's employable skills to ensure the UK has a society and economy which lifts citizens out of poverty".
More than 900 companies have already signed up, and Quinn told Eastern Eye he is keen to get the FTSE – the country's 350 biggest companies by value, publicly traded on the London Stock Exchange – on board.
"We've taken thousands of young people on and put them to work. And it has taught them life skills, which means they can go on and have a career. That, to me, is what it is all about."
There are currently 70,000 apprentices connected to The 5% Club. There are 16,000 on its graduate programmes and a further 7,500 sponsored students.
While Quinn wasn't taken on by Balfour Beatty as an apprentice, he was recruited as a graduate trainee. Prior to that, he had a Saturday job at a fishmonger.
He said: "It's incredible what you learn through that (type of) experience, apart from the skill of how to fillet fish and then sell it.
"It was also about how do you interact with customers? How do you build confidence? How do you learn to speak to people? And at 16, we don't realise what we're learning and (how we are) building confidence. It helps us to make us the man or woman we are."
He revealed this in a conversation with Conservative minister Gillian Keegan, who in 2021, was the minister for apprenticeships and skills. Now education secretary in prime minister Rishi Sunak's government, she also started working in a junior position before earning professional qualifications and moving into management before joining politics.
In addition, rather than go to university and end up thousands of pounds in debt, an apprenticeship is a relatively clean slate, with few teenagers having significant debts from their school days, he added.
Just "turning up" was good, he said, and nobody should think apprenticeships are any less a form of employment or training.
The point, Quinn said, is people can rise from humble origins and make it to the top. But they need someone to open that first door for them, and it could be through an apprenticeship.
"The important thing is to get the job, and I think apprenticeships are far more important today than they've ever been," he told Eastern Eye.